Tomorrow, on 1 February, 1,350 deposit return points will open in Latvia, where residents will be able to deposit empty glass, plastic (PET), and metal (cans) packaging marked with the Latvian deposit system label. Store shelves with deposit products will be filled gradually, and it is expected that from May onwards, mostly beverage packaging marked with a deposit system label will be placed on the market. The official opening of the deposit system will take place on 1 February at 9.00 am during a live broadcast at the "Depozīta punkts" (Deposit point) Facebook page, as well as on the portal "Delfi".
What packaging can be deposited?
With the deposit system, it will be possible to deposit beverage packaging of glass, plastic, (PET) and metal (cans), including various carbonated and non-carbonated soft drinks, all types of beer, and other alcoholic beverages with an alcohol content of up to 6%. The deposited packaging must be empty, it must not be compressed or significantly damaged, and the packaging labels must be intact and with a clearly legible barcode and the Latvian deposit system label. The first products marked with a deposit system label will be available on store shelves from tomorrow.
To make it easier to keep the packaging in its original shape and care for the environment, it is recommended that plastic bottles be returned with the caps, which will ensure that not only the packaging but also the cap is recycled.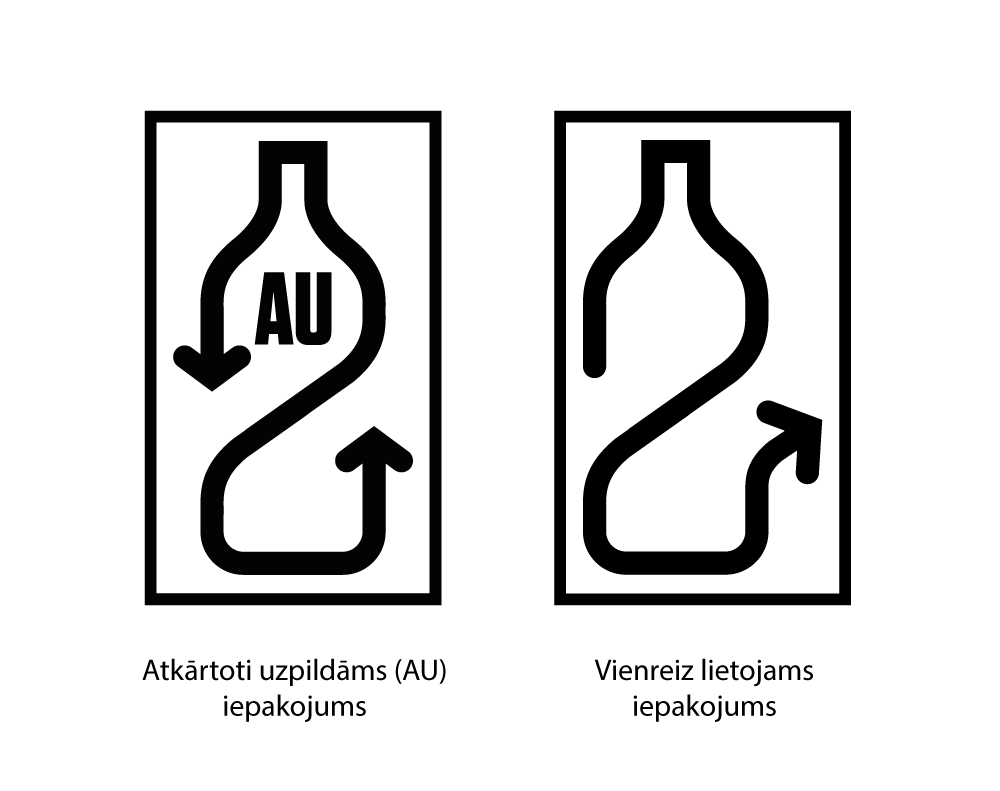 Store shelves will fill up gradually
The deposit system has a transition period of six months from 01.02.2022 until 31.07.2022, during which there will be packaging with and without a deposit system label on the store shelves. "Due to the cooperation with merchants and beverage producers, we have managed to accomplish a lot of work and introduce a deposit system in just over a year. The transition period envisages that the availability of deposit products in the store may be lower in the first month of the system's operation, and this is completely normal as the number of deposit products will increase rapidly every week. It takes time to change products on store shelves, so I invite residents to be understanding. Let's learn this new habit together," explains Miks Stūrītis, Chairman of the Board of SIA Depozīta Iepakojuma Operators.
In order to identify deposit packaging for which a deposit fee of EUR 0.10 is charged, customers will have to pay attention to the beverage label - if there is a Latvian deposit system label on it, the packaging can be returned to the deposit system to receive the deposit fee back. On the other hand, if a packaging without a deposit system label is purchased, no deposit fee will be charged and it will be possible to transfer it to the existing waste sorting containers.
How will deposit points operate?
From 1 February, empty deposit packaging can be delivered to 1,350 deposit points throughout Latvia. 736 deposit points will be automated and here the deposit packaging can be deposited using vending machines. As the deposit system begins, 614 manual return points are also planned, where the packaging will be accepted by the store seller. It is important that the number of deposit points will continue to increase in 2022 — 836 taromats have already been installed, of which 736 are operational. It is planned to install another 130 vending machines during February, and an additional 70 vending machines by 1 May, thus the total number of vending machines will exceed 1000. At the end of the transition period (31.07.2022), the total number of deposit points is expected to reach more than 1,500 points. Empty deposit packaging can be returned at any deposit point, regardless of the point of sale where the particular deposit packaging was purchased.
The opening hours of the deposit points will correspond to the opening hours of the point of sale where the deposit point is located. The same approach applies to epidemiological provisions. For example, if the deposit point is located indoors and the store is in "green mode," only customers who can present a valid Covid-19 certificate will be able to deposit the empty deposit packaging. In turn, all outdoor kiosks will operate in "red mode" and only one person can be in the kiosk at a time. "In order to ensure a pleasant and safe environment for the transfer of packaging, as well as to avoid situations of conflict, we invite residents to check the safety mode of the specific point of sale before going to the deposit point. The location of deposit points is available on the website www.depozitapunkts.lv," adds M. Stūrītis.